What Sets Us Apart In Norman, OK
The Blum & Tinsley Clinic wants to enhance the quality of our patients lives by improving and maintaining their dental health. This will be accomplished in the most comfortable manner possible through excellence in our dentistry and the building of positive relationships.
Aesthetic implant and general dentistry is what we do
Aesthetic dentistry includes comprehensive cosmetic procedures, such as porcelain veneers and other cosmetic techniques or complex restorative procedures that improve function. Regardless of the type of aesthetic treatment our patients need, they can rest assured that the care they receive will be compassionate and respectful.
The long-lasting relationships we build are as important as the technical aspect of our dentistry. Everyone's life should be enhanced by the improvement and the maintenance of their dental health. The Blum Dental team believes this can improve both overall health and one's self-confidence.
The Spear Institute
Dr. Blum has been active with the Pride Institute since 1987. Now part of The Spear Institute, Drs. Blum and Tinsley continue to advocate for a philosophy of finding success in treating patients with an exceptional level of care and cultivating a sense of connectedness within the community that mirrors our own values. We treat people the way we want to be treated!
The Spear Institute offers continuing education for our staff as well, which focuses on effective practice management, communication skills, and teamwork. This, in addition to our clinical continuing education, makes our office truly unique.
Continuing Education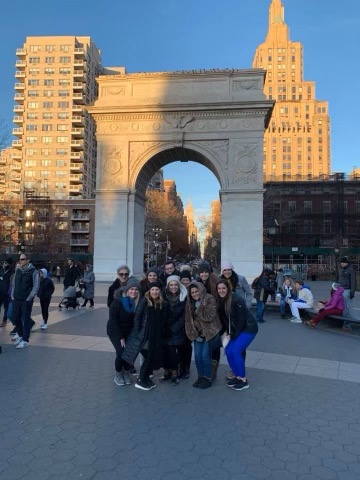 Our team in New York for a Continuing Education seminar
Part of our practice philosophy is to maximize our abilities to be excellent throughout all aspects of life. This requires change and growth, and we do that through constant continuing education with the entire staff. Improving excellence in our dentistry also makes our profession more interesting and exciting!
Our doctors stay up to date on cutting-edge dentistry techniques. We're proud to bring staff members to education conferences! Furthering the career development of our hygienists and assistants keeps our entire team focused on your oral health.
Most recently, our continuing education has included learning about different areas of dentistry and improving the way we treat our patients through implant meetings hosted by the ICOI, Pride Institute meetings on practice management, the Greater New York meeting in all different facets of dentistry, and more. This keeps our staff up to date on the latest technology and treatment.
We Pledge
to provide our patients an environment of genuine comfort, caring for each need to the highest level of our abilities;
to treat each individual in the manner and style that is reflective of how we would wish to be treated;
to create a sense of well-being, instill confidence, and fulfill even the unexpressed wishes and needs of our patients; and
to share a smile and our commitment for excellence with all who enter our door.
We appreciate the opportunity to provide you with the highest quality in dental care. We always welcome your questions and comments.