Our staff is both friendly and highly experienced. The Blum & Tinsley Dental staff is a group of dedicated, loyal, and professional women who are dedicated to continued dental education and have pursued advanced studies in their field.
Together, they have provided their skills and knowledge with a combined service of 81 years! They are dedicated to serving your dental needs while educating patients and the community about the benefits of preventive dentistry.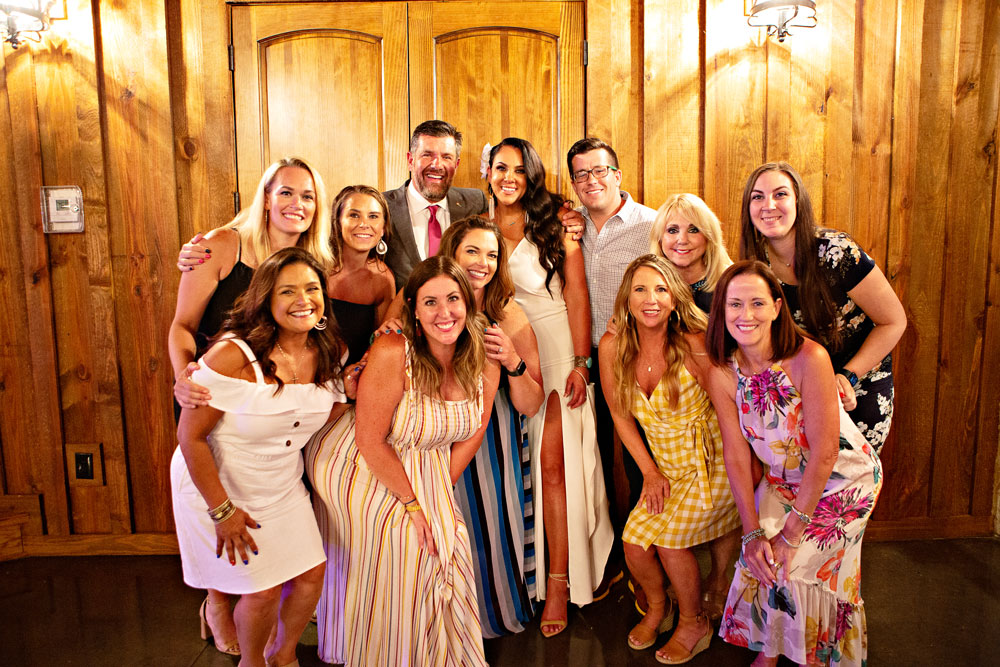 Kaui Morrison
Administrative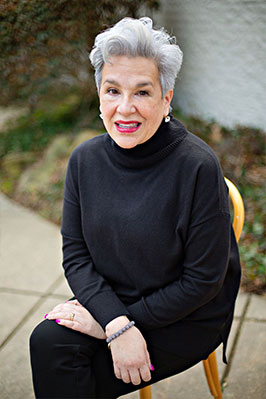 I have been a patient of Dr. Blum's for 16 years. I joined the Blum & Tinsley Dental Clinic staff in October 2011, and brought years of customer service to the practice. I have become the insurance expert of our team, by forming relationships with managers of several top dental insurance companies. I am the "go to" person in our office for your insurance questions. Besides working alongside such a great staff, I really enjoy our patients and the relationships that we've built. Listening to our patients' concerns is so important, but ensuring them that they are being heard is even more so.
I have been married for 27 years and have two grown sons. I enjoy trips to my home state of Hawaii to visit family, cooking, and cheering on all OU sports!
Heather Barefoot
Dental Assistant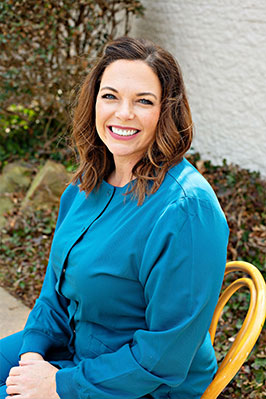 I am a clinical assistant and have been with the office since 2008, after moving here from Ardmore. I received my college degree from East Central University and have been in dentistry since 2001. Since joining Blum & Tinsley Dental Clinic, I've taken advantage of every opportunity to establish relationships with our patients and help them gain confidence through their smile. My goal is to set patients at ease by explaining all aspects of their treatment and addressing their questions and concerns. I truly love working here; Dr. Blum and Dr. Tinsley treat every patient like family. We are a well-organized office that works great together to provide excellent dentistry to each and every patient.
My husband Michael and I have been married for 24 years. He is an administrator at Noble Public Schools. We have three children, so as you can imagine, they keep us very busy. On the weekends, we can usually be found in a basketball gym or at the football field watching our kids do what they love. Our family is also very active in our church, First Baptist Church of Noble.
Marla Barnett
Dental Hygienist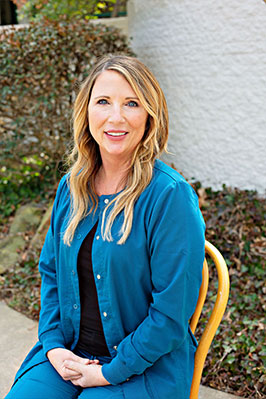 I am a registered dental hygienist and have been with Dr. Blum since 1995. I graduated from the University of Oklahoma College of Dentistry, where I served as class president and received numerous awards, including leadership and service award and outstanding senior award. I have attended many continuing education courses at the Pankey Institute, Pride Institute, and the Greater New York Dental Meeting, and received a certificate of completion from the International Congress of Oral Implantologists. Dr. Blum's high quality and expectations consistently challenge me to strive to be the best at what I do. Our emphasis on treating everyone with kindness and respect is the reason I love it here so much!
I have been married for 23 years and have two daughters. I enjoy going to OU football and softball, and going to the beach!
Jayla Eduvigen
Dental Hygienist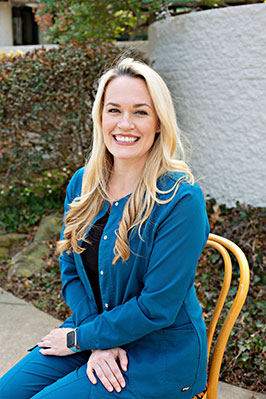 I began my career as a dental assistant in 2007. I graduated from the University of Oklahoma Health Sciences Center in 2011 with a Bachelor of Science in dental hygiene. I feel grateful to be a part of an incredible team and do my all to be the best I can be for them and for our patients. I have completed many continuing education courses over the years provided by my local and state dental hygiene associations, the Greater New York Dental International Meeting, Pride Institute, and Association of Dental Implant Auxiliaries. My career has allowed me to build wonderful relationships with my patients, and improve their health and lives along the way.
My husband and I have been married since 2011, and we have two girls. Outside of work, I enjoy spending time with family and going to our family's farm.
Julie Tinsley
Dental Hygienist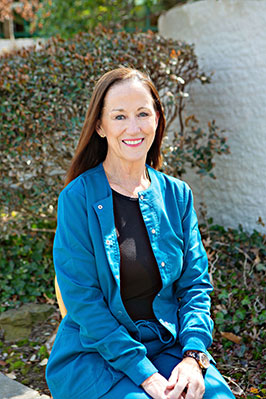 I come from a long line of dental professionals. My father and grandfather were dentists in Oklahoma and both of my sisters are also dental hygienists! Now my son is a dentist and it is a great joy to be able to work for him. My job entails cleaning a patient's teeth; however, the main objective of my job is to identify, inform, and educate our patients in their dental and overall health. Personal relationships are key in my job so I can gain patients' trust and help them succeed in maintaining health.
I have been married to my husband Loyd for 41 years. We have two children, Michael and Taylor, as well as two grandchildren. We enjoy spending time with our kids, their spouses, and grandchildren. Swimming, going to the beach, snow skiing, golfing, and being involved in McFarlin United Methodist Church keep us busy!
Kathy Blum
Office Manager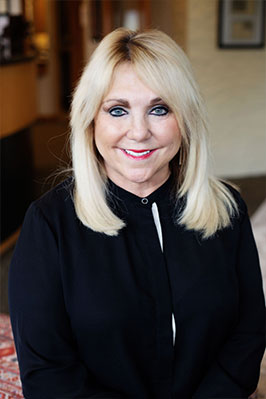 Dr. Blum and I were high school sweethearts at Norman High School. We married in 1977 while in undergraduate school at East Central University in Ada, OK. Bill wanted to get back to Norman where good friends were and The OU Sooners. He established his practice in 1985 and I came on in 1988 as office manager.
Dr. Blum and I have one daughter, Katie Blum Dempsey, that lives in NYC and is a member of the post-production team for NBC's "Dateline." She married Dan Dempsey, a lifetime New Yorker, last September in New York City after postponing a few times due to Covid. Needless to say she is in NYC for life so we travel there several times a year.
We have two French bulldogs, Louis and George, that we absolutely adore! I am a Certified Pilates instructor at Pilates Fitness Center in Norman. I enjoy taking continuing education courses in Pilates when visiting Katie in NYC.
Bill and I enjoy traveling in our spare time. Our new passion is hiking in National Forests. We also enjoy visiting different countries in Europe and frequently visit Switzerland , where his father's family lives and he lived until he was school-age.
I love being a part of The Blum&Tinsley Dental Office and working with this amazing group of women. Every one of them are so professional and kind. And all of us have formed great friendships among each other over the years!
Laura Walch
Insurance Specialist/Accounts Receivable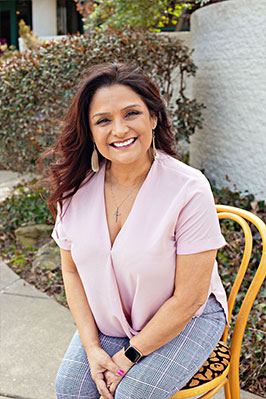 I began my career in dentistry in 2002 at a private practice in Oklahoma where I was in charge of hygiene recall. I gained experience in insurance verification, treatment planning, and financial coordination, all of which I brought with me when I joined Blum & Tinsley Dental in 2018. Everything about this office is wonderful, from the doctors to every member of the staff and, of course, our patients!
I'm engaged to a wonderful loving man named Jeremy. I am so proud of my three grown sons, Trevor, Hayden, and Colin, as well as Jeremy's two daughters, Haley and Hannah—my bonus daughters! In our free time, we love to fish, go camping, grill out, and be with family.
Melissa Cooper
Administrative/Patient Care Coordinator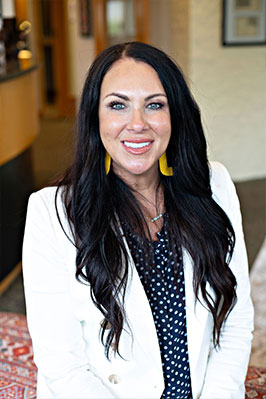 I have been with Dr. Blum's office since 1995, starting as a dental assistant, then transitioning to the front desk. I have attended numerous continuing education seminars over the years. My personal favorite was the Misch Auxiliary Seminar in Pittsburg, Pennsylvania, where I learned techniques to assist Dr. Blum in the placement of dental implants. I have attended many of the Pride Systems workshops and team-building seminars as well. I love my relationships with my patients and co-workers. I also love the opportunity to work in a place that challenges me and gives me opportunities to improve my skills and grow as a person.
My husband Buddy and I live in Norman. We have twin daughters who are in college, and a 15-year-old Havanese and two miniature dachshunds dogs that help fill our empty nest. In the fall, we enjoy attending OU football games and tailgating. I also love gardening, reading, running, and traveling.
Michelle Brayer-Esquibel
Dental Assistant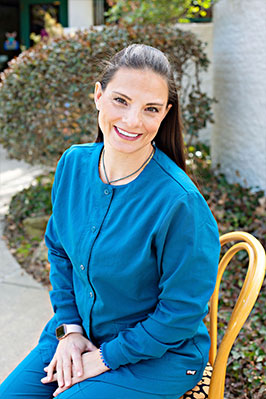 I attended dental assisting school in Germany, where I lived until 2001. I love that I'm part of an office that cares so much about their patients. We give patients a new smile, give them their confidence back, and make them happy—there's nothing better than that! I also love to get to know patients, where they are not just a number or just a patient, but they become friends. Blum & Tinsley Dental is so much more than a workplace; we are a family that supports and trusts each other fully. I feel lucky to be a part of such a wonderful team.
I am a wife of a wonderful husband and a mother of my wonderful children who are all grown. I just recently got my American citizenship, which I'm very proud of. I love music, outdoor activities, traveling, and finding new places in the USA. When I have some free time, I like to ride my Harley to find inner peace on the open road.
Jennifer Childress
Dental Assistant
I attended Moore Newman Tech's dental assisting program. After working for almost 20 years, I found my way to Blum & Tinsley! My coworkers are the best—they make me look forward to coming to the office every day. I also love that we focus so much on continuing education and take every opportunity to learn!
I have been married for 13 years and have two dogs. In my free time, I enjoy running marathons, doing triathlons, and spending time with family and friends.
Nicole Baker
Dental Assistant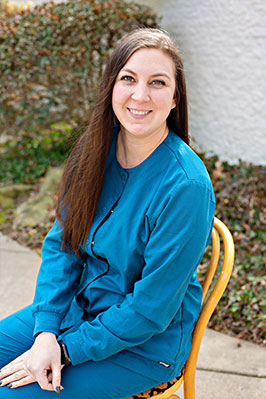 I began my dental career in 2017. Before starting at Blum & Tinsley Dental Clinic, I was a pediatric dental assistant, which comes in handy here with our younger patients. I love being able to touch a patient's life in a positive way—not only giving them a reason to smile, but actually enhancing the quality of their life. It is one of the most fulfilling aspects of my life, both personally and professionally.
I am a down-to-earth person who loves to go camping and riding on any dirt trails in our Polaris RZR. On weekends when we are not busy camping with our two dogs, Axle and Outlaw, we go to any local dirt track where I enjoy supporting my boyfriend 's Sprint Car Racing. I also enjoy crafting and going to any OU sports activity. This Fall we will be welcoming a baby girl to our family!
Our Family Treating Your Family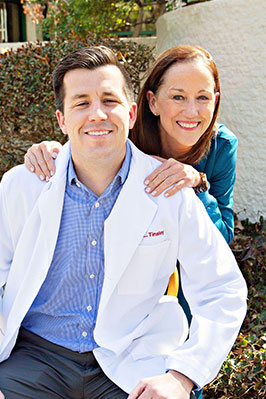 Dr. Tinsley and his mother, Julie make an excellent dental team! They practice side-by-side in our office bringing you the same level of dental care we would want and expect for our family. This philosophy of care and dedication is what our entire team delivers to our patients.